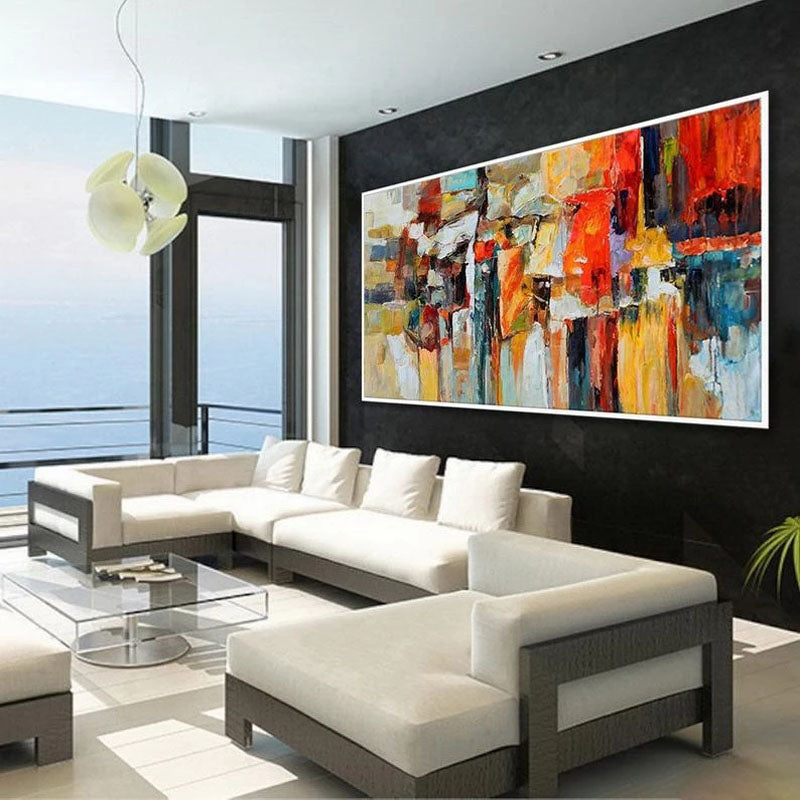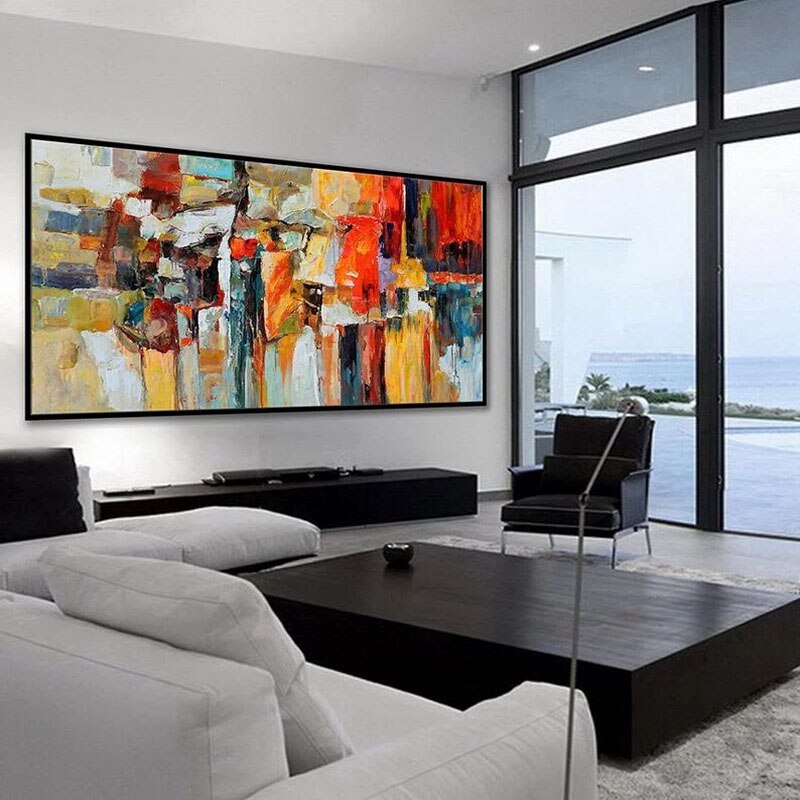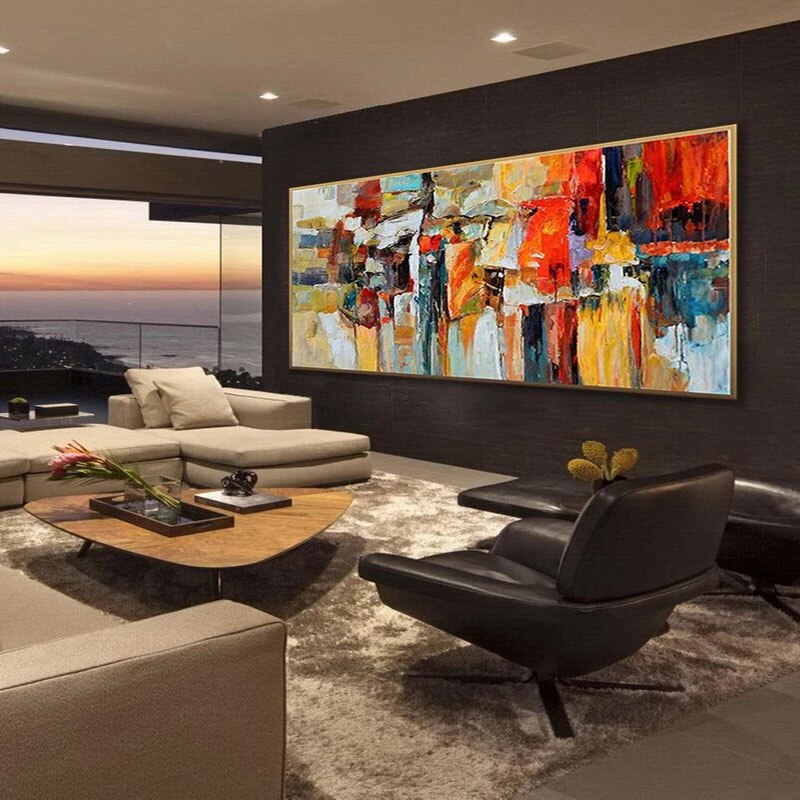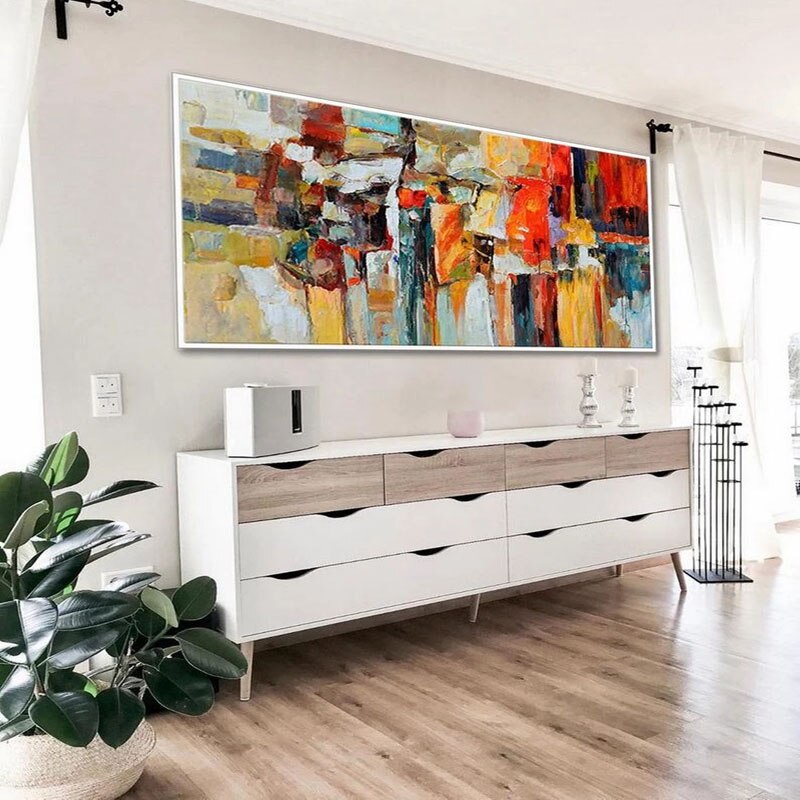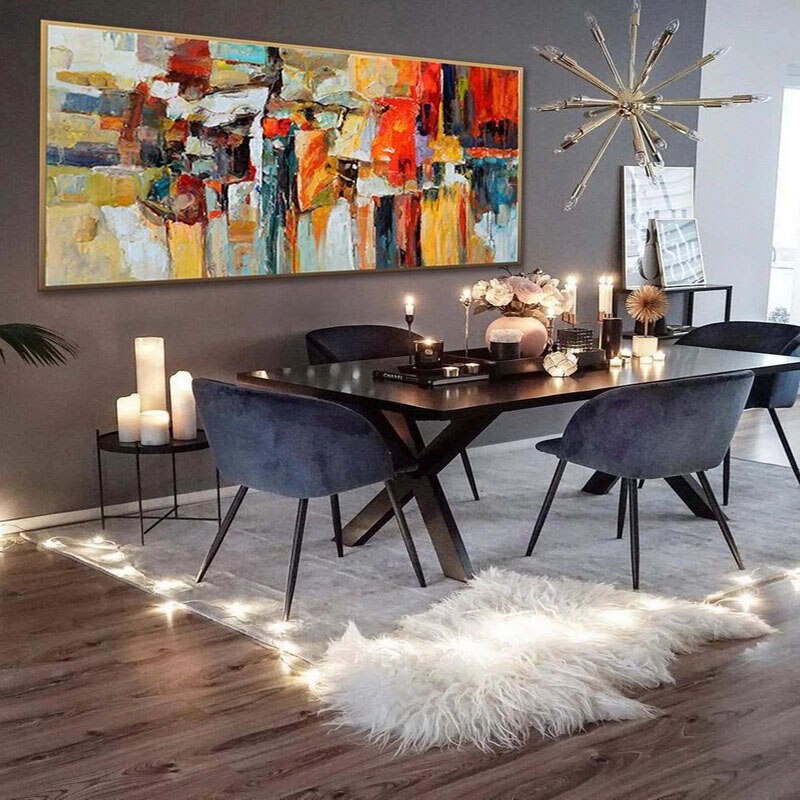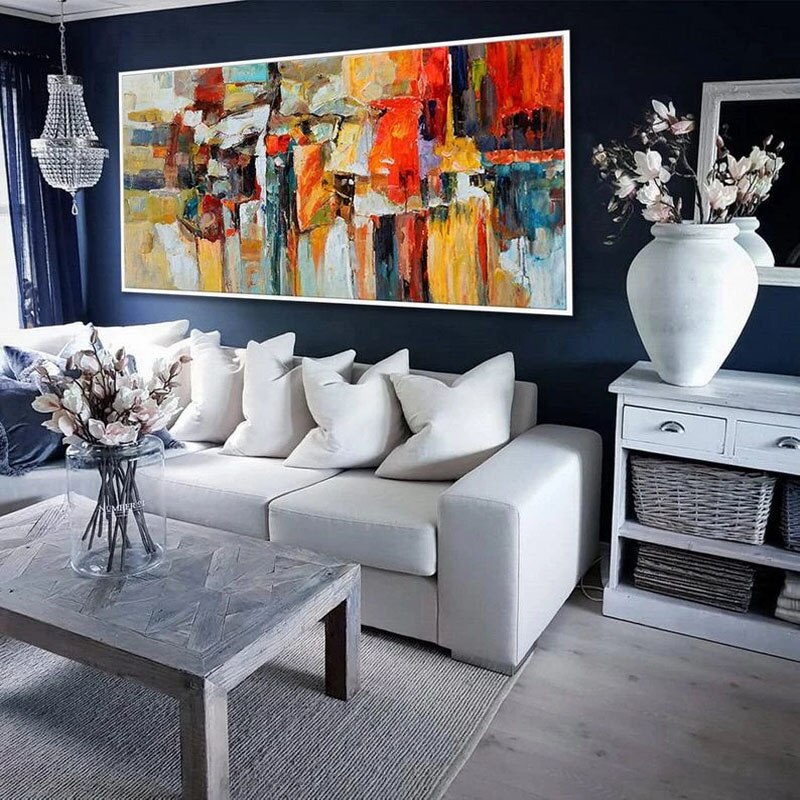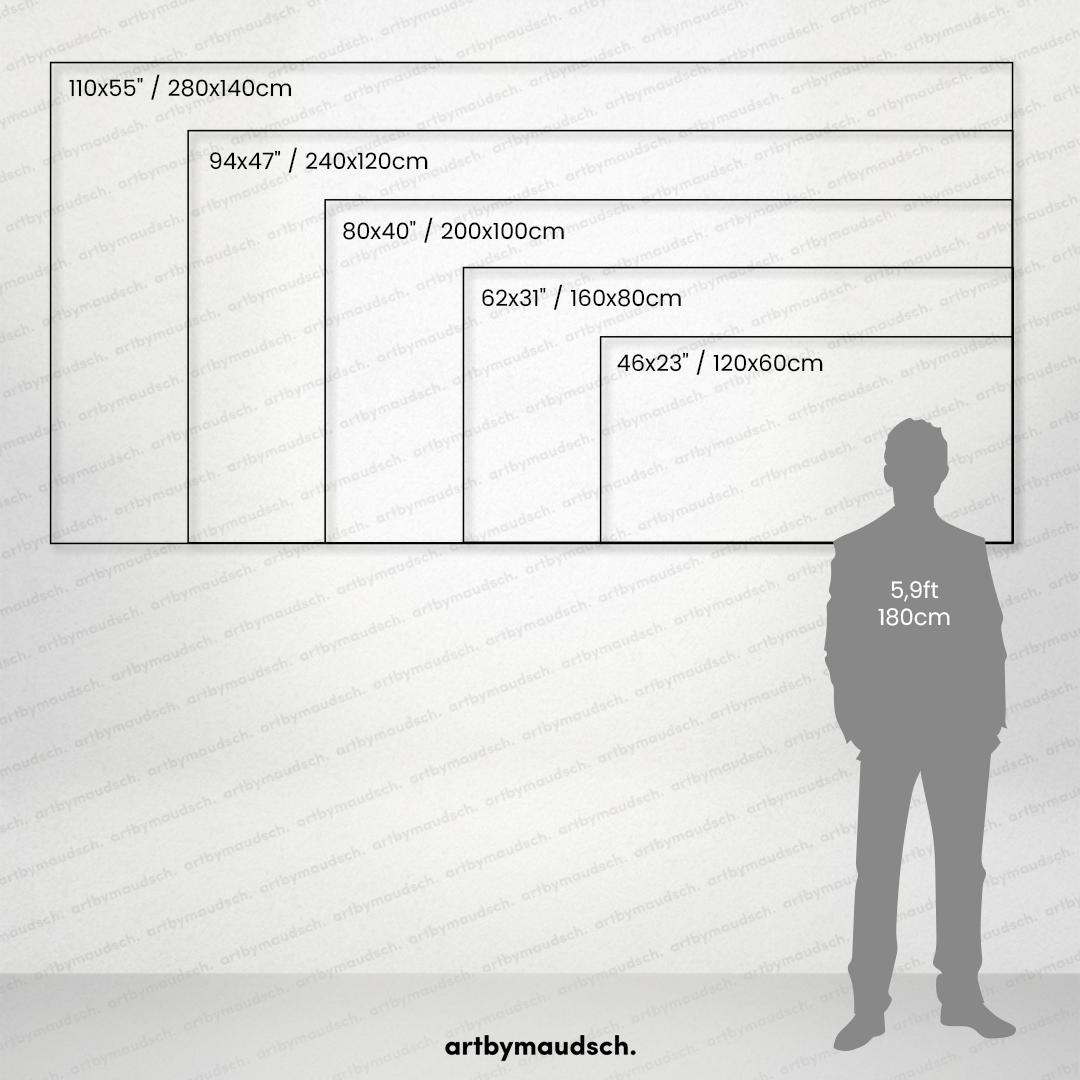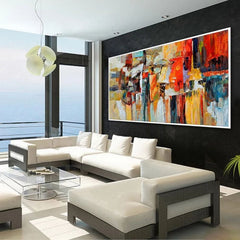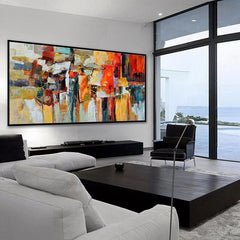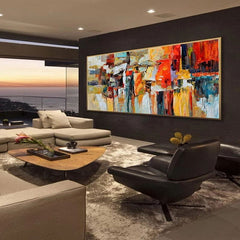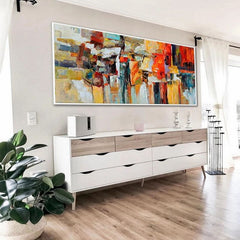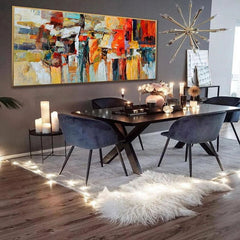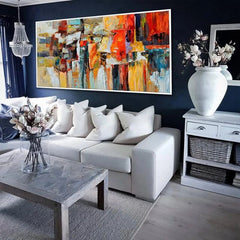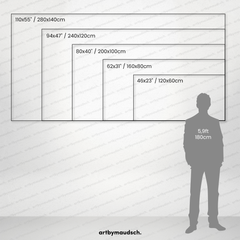 Guaranteed safe & secure checkout
Santiago de Chile, the capital of Chile, is a vibrant and most of all colourful place! Hidden between the Andes mountains, the scenery in Santiago is breathtaking! ⁠Inspired by the energy of this unique city, the artist created a wondrous abstract art piece, consisting of a whopping 66 different colours!⁠
Original art, hand-painted by our artists
Durable & non-toxic paint on cotton canvas
Framed by experts, arrives ready to hang
Certificate of authenticity included
Fully insured free express shipping
Minor differences due to original handwork
For Custom sizes, message us on our contact page.
Frame and Materials Info
All our frames are made and inspected by professionals. Czech pine wood and finger joints are used to assure frames' quality, and gesso coating is applied to guarantee stiffness and longevity.

All our paintings are made with non-toxic oil and acrylic paint and highest grade cotton canvas. 
The end result are paintings that tolerate increased humidity, are free from odor, and do NOT fade over time.
Free Express Shipping
Express shipping is free for all paintings. The paintings are put in a protective package to insure no damage. Framed paintings are shipped using DHL Express, while rolled canvas paintings are shipped via FedEx and UPS Express.

US, CA: 1-3 business days
AU, NZ: 2-4 business days
EU: 1-3 business days
Rest of the world: 2-5 business days

All paintings are shipped after painting, framing, and quality inspection are completed. This process can take 20-30 business days. All paintings come with free 100% insurance coverage.
Preview Before Shipment
After your painting is created, we'll send you photos and videos of it. You will be able to see your painting before it is shipped. The painting will be shipped only after you confirm that you like it.
30 Day Extended Returns
100% Satisfaction Guaranteed

Get a full refund or a painting re-do if you find that your art piece didn't meet your expectations, or you were anyhow dissatisfied with it.
Even custom support is made into an art
Very happy I could hang your excellent art on the wall. Vibrant and colorful it brightens the space and gives us tremendous joy.
It needs to be mentioned that it is not only the art-work we received but also the process of ordering, reviewing results and maintaining contact through customer support that meets the highes standards. Having worked in procurement I am not easily impressed but your service is excellent, fulfilling all you advertised and more! Truly a great experience that we certainly will repeat by ordering another piece of art and will highly recommend to everyone, without any reservations.
Santiago
The painting arrived just as ordered, beautiful and in perfect condition. The whole process from ordering, the review and the arrival of a very beautiful painting. My wife and I would definitely recommend Art by Maudsch
Was well worth the wait! Order now!
Exactly what we were looking for! I watched this artwork for almost a year and kept searching different websites for something colorful, modern, unique- nothing compared to this that I found and finally almost a year later we purchased the perfect picture for our new home. The price point was more than what we would normally pay- but as we know, you get what you pay for! We are in love and can do so much with this for years to come- no matter what decor we evolve to. Well packaged and great customer service. The quality is well above our expectations! We will be ordering more for our home. Thank you!!!
Beautiful!
I love my art oil painting. I was a little skeptical at first because it is a little expensive but it is so much worth it! I did splurge…but so worth it! I bough the Santiago painting. It looks beautiful in my dining room. I would highly recommend this company. They have great service. I was not disappoint at all considering these are painted in another Country…Holland.